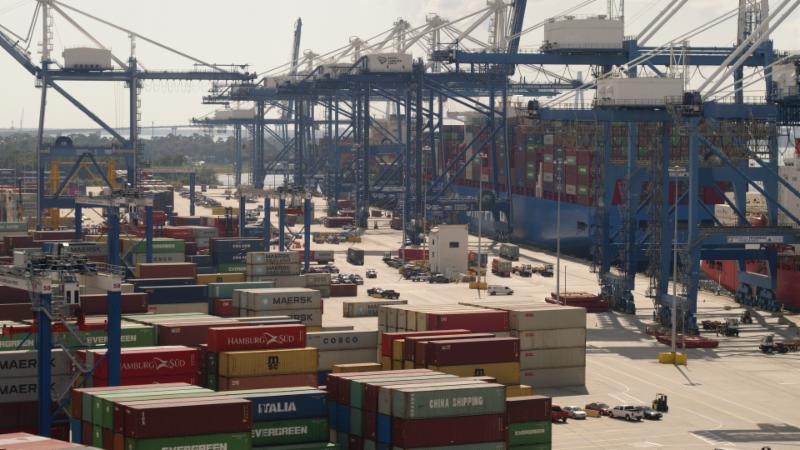 CHARLESTON, SC – November 8, 2018 – Today South Carolina Ports Authority (SCPA) announced the highest monthly container volume in its history, with 217,035 twenty-foot equivalent container units (TEUs) handled in October. Last month's record-breaking volumes marked an 18.7 percent year-over-year increase in container volume growth.
October container traffic surpassed the Port?s previous record of 206,541 TEUs handled in August. SCPA's fiscal year container volumes are up 10.3 percent compared to the same period last year, with 797,396 TEUs moved since July 1.
"We are getting increasing evidence that, in addition to a strong economy, some of this volume spike may be accounted for by customers advancing shipments to avoid pending tariffs slated to take effect in January," said Jim Newsome, SCPA president and CEO. "We are doing a more thorough assessment as to the implications of this on future volumes."
October was also the highest month in the Port?s history for pier container volume, or total boxes moved. SCPA handled 124,627 pier containers last month, pushing fiscal year-to-date volumes to 454,423 containers moved across the docks.
About South Carolina Ports Authority
South Carolina Ports Authority (SCPA), established by the state's General Assembly in 1942, owns and operates public seaport and intermodal facilities in Charleston, Dillon, Georgetown and Greer. As an economic development engine for the state, Port operations facilitate 187,200 statewide jobs and generate nearly $53 billion annual economic activity. SCPA is soon to be home to the deepest harbor on the U.S. East Coast at 52 feet, and the Port is an industry leader in delivering speed-to-market, seamless processes and flexibility to ensure reliable operations, big ship handling, efficient market reach and environmental responsibility. For more information on SCPA, please visit www.scspa.com.
Media Contact:
Kelsi Childress
External Affairs Coordinator
SC Ports Authority
843-577-8676
kchildress@scspa.com