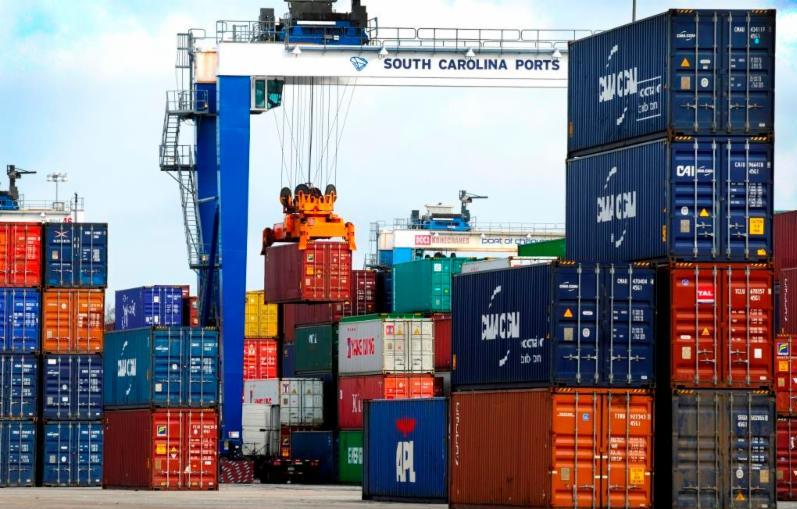 CHARLESTON, SC – May 30, 2018 – South Carolina Ports Authority's fiscal year-to-date volumes are nearly 2 percent higher than last year, with record-breaking container volumes handled in April.
As previously announced, SCPA has moved 1.8 million TEUs since July, compared to 1.78 million during the same period last fiscal year. The Port achieved a record April, with 196,439 TEUs handled during the month.
SCPA's strong container volume was also reflected in April volumes at Inland Port Greer. The facility handled 9,577 rail moves last month for a fiscal year-to-date total of 96,937 lifts.
In non-containerized cargo, the Port handled 51,426 pier tons in April. Since the fiscal year began in July, 608,829 tons of breakbulk cargo have moved across the docks in Charleston.
RTG purchase
At its monthly Board of Directors meeting today, the Port announced plans to purchase 26 rubber-tired gantry (RTG) cranes from Konecrane. The $46.4 million contract includes 24 new RTGs for the Wando Welch Terminal to support SCPA's plans to modernize operations and increase container yard capacity of its existing terminal facilities. Inland Port Greer will receive two of the new cranes to support continued volume growth of the facility.
About South Carolina Ports Authority
South Carolina Ports Authority (SCPA), established by the state's General Assembly in 1942, owns and operates public seaport facilities in Charleston, Dillon, Georgetown and Greer. As an economic development engine for the state, Port operations facilitate 187,200 statewide jobs and generate nearly $53 billion annual economic activity. SCPA is soon to be home to the deepest harbor on the U.S. East Coast at 52 feet, and the Port is an industry leader in delivering speed-to-market, seamless processes and flexibility to ensure reliable operations, big ship handling, efficient market reach and environmental responsibility. For more information on SCPA, please visit www.scspa.com.