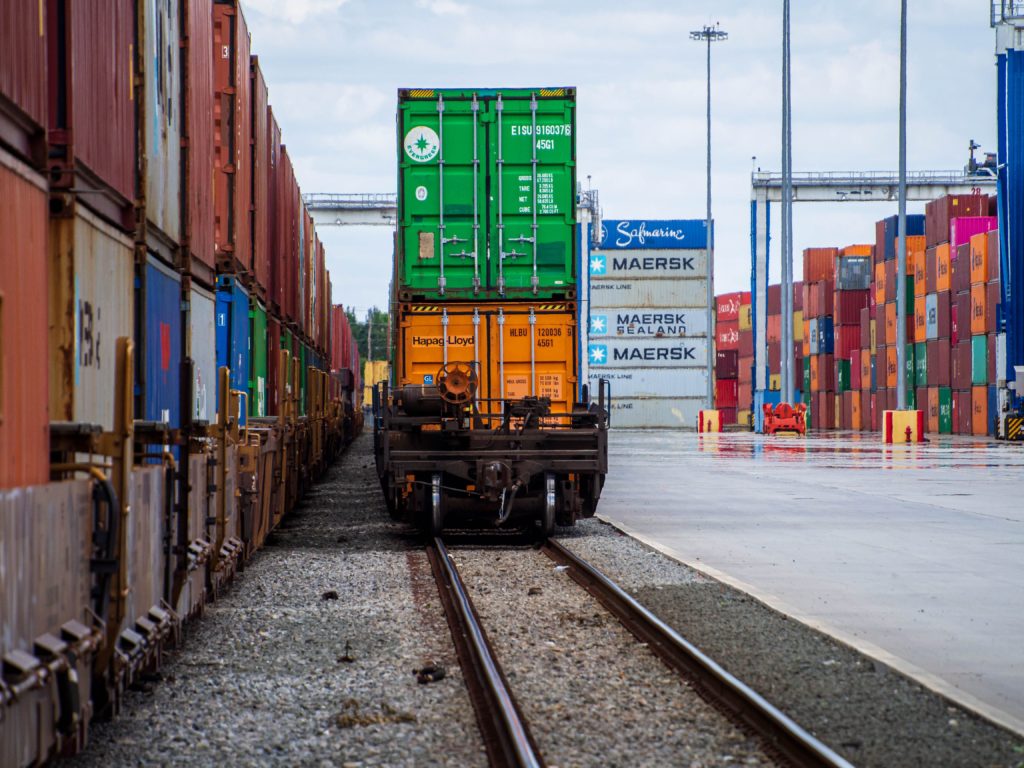 CHARLESTON, SC – JULY 28, 2020 – S.C. Ports Authority is proud to further its longtime partnership with Michelin North America, Inc. by moving cargo for the tiremaker's largest distribution center.
Michelin, which has its North American headquarters in Greenville, S.C., operates a 3-million-square-foot Southeast distribution center in Woodruff, S.C. The facility is located in the booming Upstate of South Carolina.
Michelin will move finished tires between the Woodruff distribution center and S.C. Ports' Inland Port Greer, which sits 10 miles away along Interstate 85. Inland Port Greer connects to the Port of Charleston via overnight rail service by Norfolk Southern.
Michelin's decision to move finished tires through Inland Port Greer builds on the existing supply chain partnership. Michelin began moving raw materials through Inland Port Greer in 2015.
"S.C. Ports' Inland Port Greer enables Michelin to seamlessly and efficiently import materials and export tires to global markets through the Port of Charleston," said Julie Branham, supply chain operations, Michelin North America. "Access to an efficient supply chain and port facilities is a key element of Michelin's long-term success in South Carolina, ultimately creating more jobs for residents of our state."
The Woodruff distribution center is the largest warehouse of the Michelin Group worldwide, equivalent to 57 football fields. The state-of-the-art facility will be used to serve around 60% of Michelin's North American customers.
"Michelin is a valued customer of S.C. Ports. We are thrilled to expand on this important partnership by serving Michelin's impressive distribution center in Woodruff, S.C.," said Jim Newsome, president and CEO of S.C. Ports Authority. "Inland Port Greer offers customers efficiencies and speed-to-market. We look forward to handling increased imports and exports for Michelin through Inland Port Greer and the Port of Charleston."
Michelin's $270 million, five-building distribution hub is equipped with modern technology and was also built with sustainability in mind. Emissions from handling equipment have been substantially decreased through hydrogen-fueled vehicles in the warehouse, and the use of LED lighting has resulted in significant energy savings.
Michelin's use of Inland Port Greer aligns well with the company's all-sustainable strategy; the use of rail on this route can reduce air emissions by up to 70% compared to moving the cargo via truck, according to an SCPA analysis.
Inland Port Greer extends the Port of Charleston's reach 212 miles inland by providing overnight rail service via Norfolk Southern. The 24/7 inland terminal reaches 90 million consumers within a 500-mile radius, which can be reached in a one-day truck trip.
About Michelin North America
Dedicated to the improvement of sustainable mobility, Michelin designs, manufactures and sells tires for every type of vehicle, including airplanes, automobiles, bicycles, earthmovers, farm equipment, heavy-duty trucks and motorcycles. Michelin also offers a full range of innovative services and solutions that help make mobility safer, more efficient and more environmentally friendly. To create unique mobility experiences, Michelin publishes travel guides, hotel and restaurant guides, maps and road atlases. Headquartered in Greenville, S.C., Michelin North America, Inc. employs more than 20,000 people and operates 19 major manufacturing plants in the U.S. and Canada.
About South Carolina Ports Authority
South Carolina Ports Authority (SCPA), established by the state's General Assembly in 1942, owns and operates public seaport and intermodal facilities in Charleston, Dillon, Georgetown and Greer. As an economic development engine for the state, Port operations facilitate 225,000 statewide jobs and generate nearly $63.4 billion in annual economic activity. SCPA is soon to be home to the deepest harbor on the U.S. East Coast at 52 feet, and the Port is an industry leader in delivering speed-to-market, seamless processes and flexibility to ensure reliable operations, big ship handling, efficient market reach and environmental responsibility. For more information on SCPA, please visit www.scspa.com.