Reliability for your supply chain. Capacity for your goods. A well-run port in the booming Southeast market. Come experience SC Ports.
Fluidity
Our focal point is fluidity for you.
As an owner-operator port, SC Ports quickly adapts to the ever-changing supply chain landscape, ensuring truck turn times remain less than an hour and that you have immediate access to import loads. When supply chain challenges occur, we're responsive and agile in delivering customized solutions. For example, we're developing a port owned-and-operated chassis fleet to further improve fluidity.
Global brands know they can depend on SC Ports for reliable, efficient service. Come experience SC Ports. Connect with our team.
Capacity
We're investing $3 billion in capacity ahead of demand to keep your supply chain moving.
With a brand new marine terminal open, heavy investment in existing terminals, the deepest harbor on the U.S. East Coast, and a new rail facility that will increase intermodal container capacity, you can be confident in our high port performance, now and for the long-term.
Come experience SC Ports. Connect with our team.
Strategic locations
SC Ports sits within the booming Southeast market. Companies opening import distribution centers and manufacturing facilities nearby have access to a growing population, available land, a supply of spec-built warehouses, and an expansive infrastructure network. Seventy-two million consumers live within 500 miles.
SC Ports provides direct access to global markets including weekly services to Asia, India, North Europe, and more.
And, South Carolina has a strong and inviting business climate. Come experience SC Ports. Connect with our team.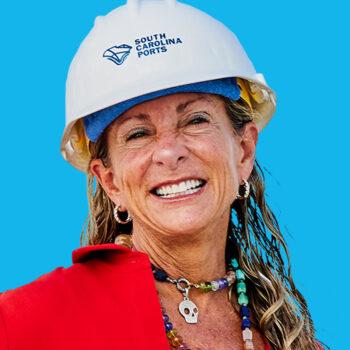 We are proud to provide companies with the cargo capacity and reliable service they need to be successful. SC Ports handles the logistics side so companies can focus on running their businesses.