With the deepest harbor on the East Coast, the Port of Charleston offers a maintained harbor of -52 feet (15.9 meters) of depth at mean low tide throughout the main shipping channel and -54.2 feet (16.5 m) in the entrance channel. A five to six foot tidal lift provides even deeper access for several hours during the day. The following chart illustrates Charleston's current big ship handling capability throughout the day:
| Vessel Drafts | 46 Ft | 47 Ft | 48 Ft | 49 Ft | 50 Ft |
| --- | --- | --- | --- | --- | --- |
| Vessel Movement Hours Per Day | 24 Hrs | 20 Hrs | 17 Hrs | 15 Hrs | 10 Hrs |
Channel Depth (mean low water):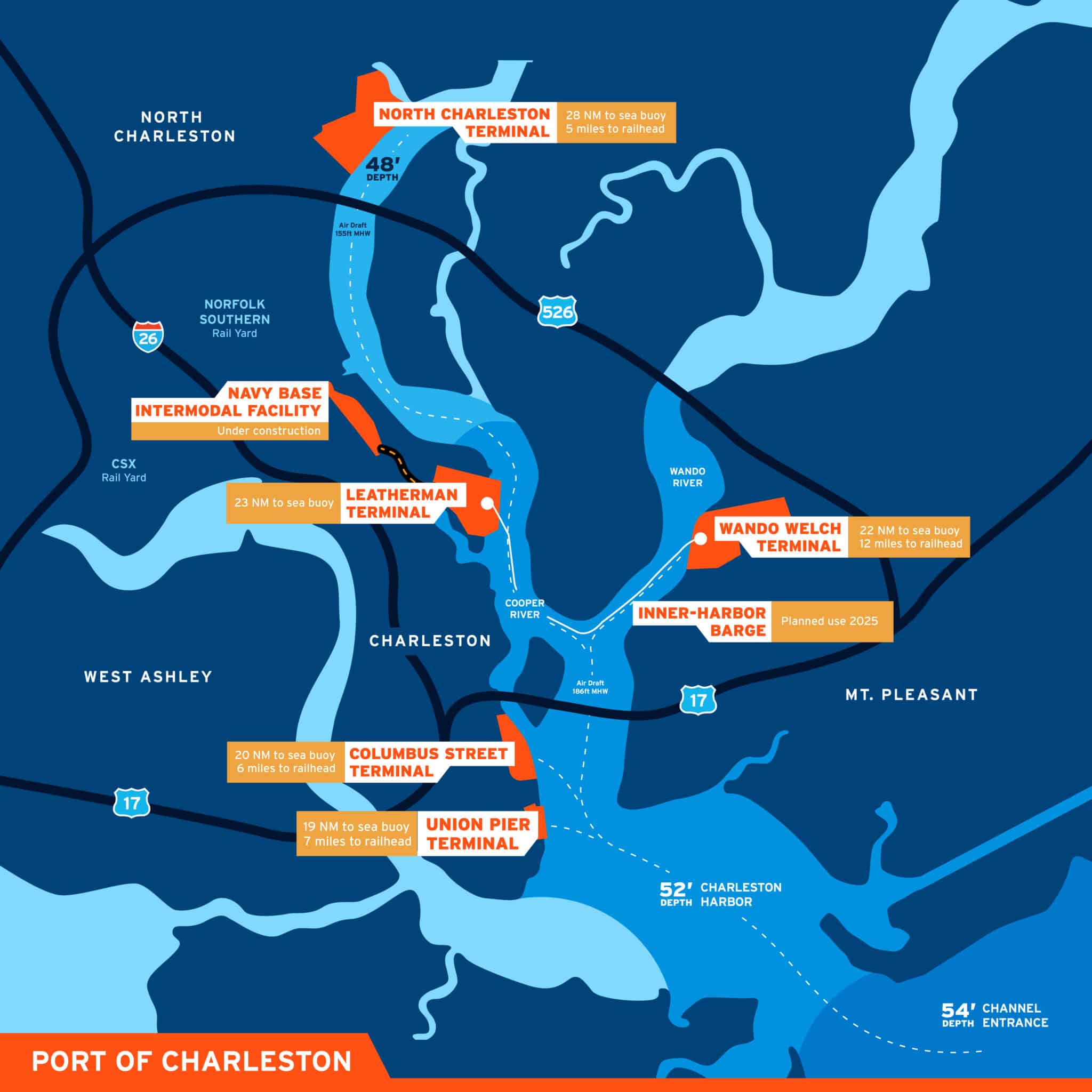 Entrance Channel 54.2 ft (16.5m)

Harbor channel and dockside 45 ft (13.7m)

Soft mud bottom
Minimum 500 feet (152m)

Maximum 1,000 feet (304.8m)
Columbus Street Terminal has no air draft limitations. Vessels access the ports largest facility, the Wando Welch Terminal, as well as the new terminal under construction at the former Navy Base, by sailing underneath the Ravenel Bridge, which allows for 186 feet (56.7 m) of vertical clearance at mean high water. Ships sailing to North Charleston Terminal transit underneath the Don Holt Bridge, with 155 feet (47.24 m) of air draft.
Required. Charleston Branch Pilot's Association.
Available 24-hours-a-day.
Fuel is only pumped via barge and not across the dock at all SCPA facilities.
Harbor Pilots: VHF Channels 13, 14, 16
Moran Towing: VHF Channel 19A
McAllister Towing: VHF Channel 7A