Keeping Freight Moving
South Carolina Ports Authority promotes, develops and facilitates waterborne commerce to meet the current and future needs of its customers, and for the economic benefit of the citizens and businesses of South Carolina.
Our Impact
South Carolina Ports is the state's most significant economic asset. Its connectivity to the global marketplace supports economic development and job growth, and its commitment to capable, competitive operations will deliver positive impacts for years to come.
Top 10 U.S. Container Port
SC Ports owns and operates the Port of Charleston, Port of Georgetown, Inland Port Greer and Inland Port Dillon. SC Ports ensures the efficient movement of cargo between South Carolina and global markets.
As the 8th largest U.S. container port, SC Ports proactively invests in infrastructure ahead of demand. SC Ports has invested more than $2 billion in recent years to enhance capabilities and capacity, yielding modern terminals, new cargo capacity, the deepest harbor on the East Coast and an expansive rail network.
More critical infrastructure investments are planned, including developing near-dock rail at the Port of Charleston, further speeding goods to market.
SC Ports serves as a vital economic engine for the Southeast. In South Carolina, port operations support 1 in 10 jobs and generate a $63.4 billion annual economic impact.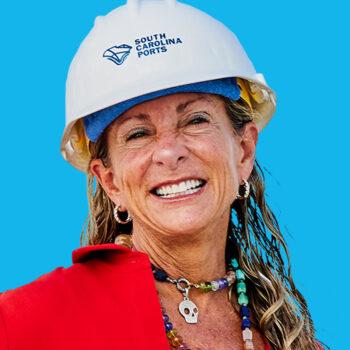 With the skill and talent of our team, the solid experience from our maritime community, the guidance from our Board of Directors, and the support from our elected, business and community leaders, SC Ports will continue to grow, bringing jobs and investments to our state. Our port investments will yield economic benefits for generations to come.