Infrastructure Investments
SC Ports has invested more than $2 billion into port infrastructure in recent years to support the state's booming business sector. Combined with port funding and state funding, SC Ports plans to spend an additional $2.5 billion over the next decade.
Modernizing Wando Welch Terminal
SC Ports invested $500 million to modernize Wando Welch Terminal with enhanced capacity and operations.
Fifteen ship-to-shore cranes now stand 155 feet above the wharf deck at Wando Welch Terminal, efficiently working mega container ships at the Port of Charleston.
Wando Welch Terminal also has a strengthened wharf, enhanced container yard, expanded refrigerated cargo yard, new container-handling equipment, improved traffic patterns and IT systems, and an on-terminal transload facility for mega retailers.
Expanding Inland Port Greer
SC Ports is expanding Inland Port Greer to better support the supply chains of port-dependent businesses in the Upstate and throughout the Southeast.
Expanding the rail-served inland port enables more cargo to flow to and from the port and the interior. The more than $30 million investment will double cargo capacity and enhance rail capabilities. The rail component is already complete; it adds 8,000 feet of new rail to handle trains filled with cargo.
Developing near-dock rail
SC Ports is developing a rail-served intermodal yard that provides near-dock rail to the Port of Charleston. Class I railroads CSX and Norfolk Southern will both serve the Navy Base Intermodal Facility, helping to speed goods to market for port-dependent businesses.
The state of South Carolina is investing $400 million to support this critical infrastructure project, which is set to open in 2025.
Developing an inner-harbor barge
SC Ports is developing an inner-harbor barge operation that will support the Navy Base Intermodal Facility by moving containers via waterways between Wando Welch Terminal and Leatherman Terminal.
The state of South Carolina is investing $150 million to support this project.
Deepening Charleston Harbor to 52 feet
Charleston now has the deepest harbor on the East Coast at 52 feet, enabling the biggest ships calling the East Coast to access SC Ports' terminals any time, any tide. Widened channels and turning basins also make it easier and safer for large vessels to navigate the harbor.
The successful Charleston Harbor Deepening Project makes SC Ports more competitive, helping to attract new ship services and further connecting South Carolina to global markets.
The roughly $580 million project, done in partnership with the U.S. Army Corps of Engineers, Charleston District, was fully funded by state and federal dollars.
Opening Leatherman Terminal
The $1 billion Phase One of Leatherman Terminal opened in 2021, marking the country's first new container terminal since 2009.
Leatherman Terminal deploys five ship-to-shore cranes with 169 feet of lift height and 700,000 TEUs of capacity. The state-of-the-art container terminal adds a much-needed berth to the East Coast port market.
Leatherman Terminal will be built in three phrases through 2032. At full buildout, the three-berth Leatherman Terminal will have 2.4 million TEUs of capacity.
Launching the SMART Pool™
SC Ports launched its SMART POOL™, a new port-owned and port-operated chassis program that enhances the availability, reliability and quality of chassis on SC Ports' terminals.
More than 10,000 assets have been deployed thus far for the Southeast supply chain.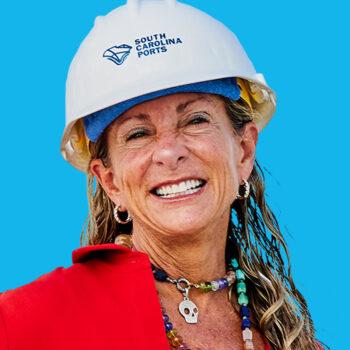 We are boldly investing in port infrastructure to grow our port system and further support port-dependent businesses in South Carolina and beyond.