What We Do
South Carolina Ports Authority (SCPA) owns and operates public seaport and intermodal facilities in Charleston, Greer, Dillon, and Georgetown. Our 900+ employees handle cargo, operate and maintain cargo handling equipment, manage port facilities and operations, and support the port system in a fast-paced 24/7 environment. SCPA supports 1 in 10 SC jobs, both directly and indirectly.
Our Values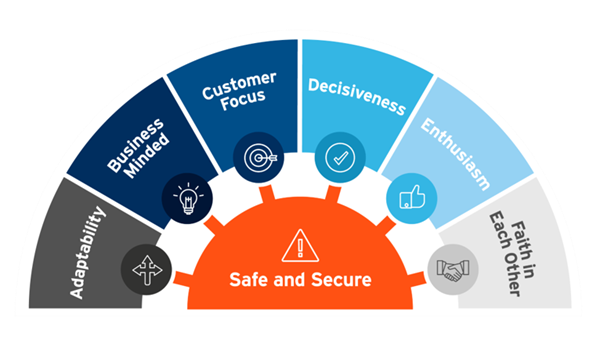 Interested in a career at SC Ports?
NOTE: Due to the high volume of applications received, SC Ports is unable to provide individual status updates. All applicants will be notified by email or telephone when individual statuses change.
DID YOU KNOW? You can log into your candidate portal at any time to review the current status of all submitted applications! Just keep the password you created in a safe place & login with your email address HERE.
Step 1: Application Process
All applications must be submitted online. Unfortunately, we are not able to accept resumes that are not tied to an application.
Your application must be completed for you to be considered for the position and a resume is highly encouraged. A confirmation email will be sent once your application has been received. (Be sure to check junk/spam folders in case the communication has been filtered out.)
You are NOT required to have a TWIC (Transportation Worker Identification Credential) card to be considered for a position.  You will be informed during the recruitment process when to purchase a TWIC card if you don't already have one.
Step 2: Review and Interview
Due to the large volume of applications received, the application review process can take some time. Please be patient as all applications are individually reviewed by a recruiter or hiring manager.
If you are selected for an interview or otherwise advanced in the process, you will be contacted by a recruiter with next steps. Please be sure all contact information on your resume and applicant profile are up to date.
We request that you do not reach out to inquire about your status. If you are being considered for a position, we will initiate contact.
Step 3: Decision and Notification
The hiring team will evaluate all candidates interviewed for the position and decide who is best qualified for the position.
The selected candidate will be notified by the recruiter and given details of next steps in the process.
All candidates will be notified once the position has been filled. If you are not selected for the position, you will receive notification via email that you are no longer being considered. (Again, be sure to check junk/spam folders, just in case!)
SC Ports Authority (SCPA) offers a competitive benefits package to eligible employees. This section is intended to provide only a brief overview of available benefits for informational purposes. It is not all-inclusive. Further information will be provided upon hire.
Group Insurance Benefits through the State of SC's Public Employee Benefit Authority (PEBA). These benefits include health, dental, vision, life, long term disability, flexible spending accounts, health savings accounts and more. The SCPA subsidizes many of these benefits more than what the state requires. Please visit www.peba.sc.gov for more information.
The SCPA believes our employees are our greatest asset, and we want to do all we can to help them achieve their personal best. We strive to provide employees with the education, support and tools needed to make more informed decisions regarding their health. Our wellness program includes a wellness center run by MUSC Health, a fitness center, a walking trail, onsite galley cafeteria, health screenings, flu shots, routine physicals and more.
Mandatory Retirement Programs – All regular employees of the SCPA must enroll in either the South Carolina Retirement System (SCRS), a traditional defined benefit pension plan, or the State Optional Retirement Program (ORP), a defined contribution plan. Employees and the SCPA must each contribute a state-directed percentage of pay. Please visit www.peba.sc.gov for more information.
Voluntary Retirement Programs – The SC Deferred Compensation Program is a voluntary program in which employees can conveniently save additional funds for retirement using pretax or post-tax dollars through automatic payroll deductions. Options available include: 401(k), Roth 401(k), 457 and Roth 457. These plans have a wide variety of investment options available. Please visit www.southcarolinadcp.com for more information.
State Port Employees Club ("Christmas Club")
Employee Assistance and Port Chaplain Programs
Supplemental Insurance Benefits
Education Assistance
Paid Time Off Benefits
Equipment maintenance apprenticeship program

Summer internships
SC Ports Authority is an Equal Opportunity Employer that does not discriminate on the basis of actual or perceived race; creed; color; religion; alienage or national origin; ancestry; citizenship status; age; disability or handicap; sex; pregnancy, childbirth or related medical condition; marital status; veteran status; sexual orientation; gender identity; genetic information; arrest record; or any other characteristic protected by applicable federal, state or local laws.  Applicants have rights under Federal Employment Laws such as the Family and Medical Leave Act (FMLA) and the Employee Polygraph Protection Act (EPPA) and rights to equal employment opportunity. Our management team is dedicated to applicant and employee rights with respect to recruitment, hiring, placement, promotion, transfer, training, compensation, benefits, employee activities and general treatment prior to and during employment.
Successful candidates must meet the Federal requirements for obtaining a Transportation Worker Identification Credential (TWIC). TWIC is a common identification credential for all personnel requiring unescorted access to secure areas of Maritime Transportation Security Administration (MTSA)-regulated facilities and vessels, and all mariners holding Coast Guard-issued Credentials. Applicant must be able to meet the Federal Requirements for obtaining a TWIC card.