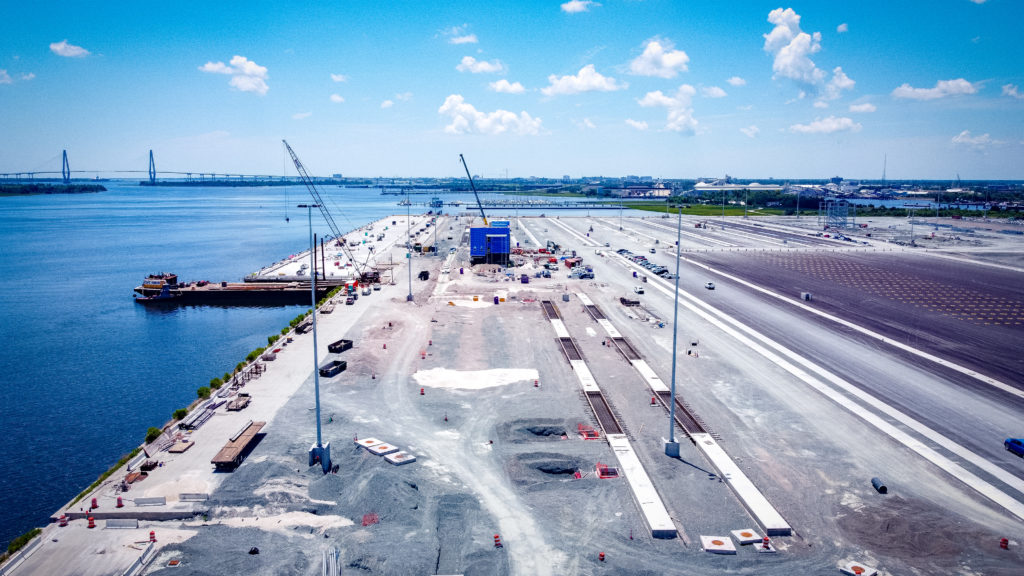 CHARLESTON, SC – AUG. 6, 2020 – Construction of the Hugh K. Leatherman Terminal is on schedule for a March 2021 opening.
The opening of the container terminal will be a major accomplishment for S.C. Ports and the Southeast logistics network. Phase One will propel S.C. Ports into the future with its modern technology, impressive equipment and big-ship capabilities.
"We look forward to opening the first phase of the Hugh K. Leatherman Terminal, which will be the country's first container terminal in more than a decade," S.C. Ports President and CEO Jim Newsome said. "The Leatherman Terminal will enable S.C. Ports to handle more cargo and bigger ships. Businesses depend on us to efficiently move their cargo, and this flow of goods creates more jobs and investment in South Carolina."
The site development and construction of such a massive project requires many project partners. S.C. Ports' engineering team works on the 286-acre site every day with many contractors, including HDR Inc., Banks Construction Co., Samet Corp., Cape Romain/McLean A Joint Venture and Cape Romain Contractors Inc.
"Our engineering team and project partners have done an absolutely amazing job overseeing this very complex construction project," S.C. Ports COO Barbara Melvin said. "It is so exciting to see the culmination of a multi-decade effort nearing completion. With great creativity and coordination, they are transforming the former Navy Base site into a state-of-the-art container terminal. I am so proud of the work they are doing for South Carolina."
Phase One of the terminal will add 700,000 TEUs of annual throughput capacity to the Port of Charleston. At full build-out, the three-berth terminal will double S.C. Ports current capacity by adding 2.4 million TEUs of throughput capacity.
Construction milestones
The engineering and construction teams reached several key construction milestones this summer as the terminal continues to take shape in North Charleston.
Crews finished the final concrete pour for the wharf deck in July. This milestone is a critical step in preparing the 1,400-foot wharf to handle some of the tallest ship-to-shore cranes on the East Coast, which will work some of the largest ships on the water.
Five ship-to-shore cranes with 169 feet of lift height above the wharf deck are currently being fabricated by ZPMC in Shanghai, China. The first two cranes are set to arrive in September, with the remaining three arriving in October. ZPMC USA will then assemble and test the cranes ahead of launching operations in the spring.
Twenty-five hybrid rubber-tired gantry cranes are also set to arrive later this year. The concrete runway beams for these cranes are currently under construction, setting the stage for the RTGs to seamlessly move up and down rows of containers stacked six high.
Foundations have been installed and steel erection work has started for the six-story tall refrigerated container racks, which will enable S.C. Ports to handle more refrigerated and frozen goods for customers.
Concrete and asphalt paving throughout the site is ongoing, preparing the terminal to handle trucks, cranes, containers and container handling equipment. Construction of the S.C. Department of Transportation's Port Access Road is progressing as well; this road will provide truck drivers with a direct connection between Interstate 26 and the Leatherman Terminal.
Vertical construction is nearly 70% complete as many on-site buildings are taking shape, including the terminal operations building, vessel operations building, maintenance building, and the various booths and canopies designed for truck drivers and tenants. Dominion Energy is also stringing power lines via helicopter to connect power to the terminal's private substation.
"Construction is progressing very well as we remain on schedule," Melvin said. "Our engineering project manager Butch Weber describes the site as a small city, and it is truly remarkable to see it all coming together."
S.C. Ports is in the final year of a six-year capital improvement plan, a culmination of years of strategic infrastructure planning and $2 billion in investments. The Leatherman Terminal complements efforts to modernize Wando Welch Terminal and deepen Charleston Harbor to 52 feet. These investments will enable S.C. Ports to handle four 14,000-TEU vessels simultaneously in 2021.
"Phase One of the Leatherman Terminal will give us the ability to handle a 19,000-TEU ship, should one come to the East Coast. Not many ports can say that," Melvin said. "The modern capabilities and capacity of this terminal benefits customers and strengthens our global competitiveness."
About South Carolina Ports Authority
South Carolina Ports Authority (SCPA), established by the state's General Assembly in 1942, owns and operates public seaport and intermodal facilities in Charleston, Dillon, Georgetown and Greer. As an economic development engine for the state, Port operations facilitate 225,000 statewide jobs and generate nearly $63.4 billion in annual economic activity. SCPA is soon to be home to the deepest harbor on the U.S. East Coast at 52 feet, and the Port is an industry leader in delivering speed-to-market, seamless processes and flexibility to ensure reliable operations, big ship handling, efficient market reach and environmental responsibility. For more information on SCPA, please visit www.scspa.com.