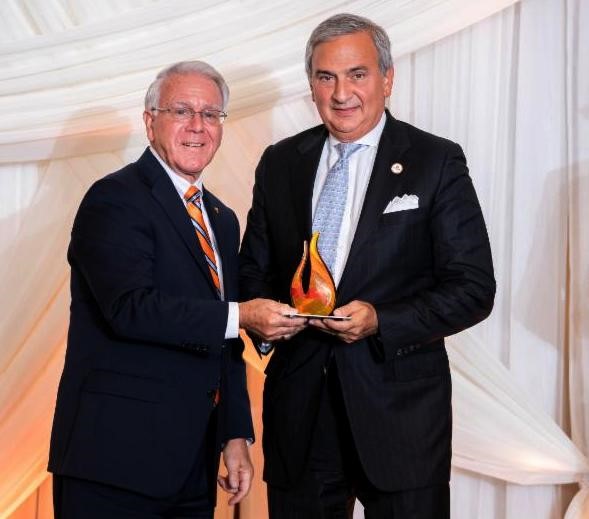 CHARLESTON, SC – September 19, 2018 – South Carolina Ports Authority president and CEO Jim Newsome was recently named a 2018 Alumni Professional Achievement Award recipient by The University of Tennessee, Knoxville, at its annual gala on September 7.
Newsome was one of five alumni honored with the award, which spotlights graduates who have achieved a high level of success in their career fields. Created in 2011, the award recognizes alumni with notable career accomplishments and a history of outstanding contributions to their profession.
Newsome earned a Bachelor of Science Degree in Logistics and Transportation from UT in 1976 and a Master of Business Administration from the Haslam College of Business in 1977. He has continued to serve the university on the Dean?s Advisory Council and the Global Supply Chain Institute Advisory Board through the Haslam College of Business. He is a member of the Haslam College of Business 1914 Society and Archway Society.
About South Carolina Ports Authority
South Carolina Ports Authority (SCPA), established by the state's General Assembly in 1942, owns and operates public seaport facilities in Charleston, Dillon, Georgetown and Greer. As an economic development engine for the state, Port operations facilitate 187,200 statewide jobs and generate nearly $53 billion annual economic activity. SCPA is soon to be home to the deepest harbor on the U.S. East Coast at 52 feet, and the Port is an industry leader in delivering speed-to-market, seamless processes and flexibility to ensure reliable operations, big ship handling, efficient market reach and environmental responsibility. For more information on SCPA, please visit www.scspa.com.