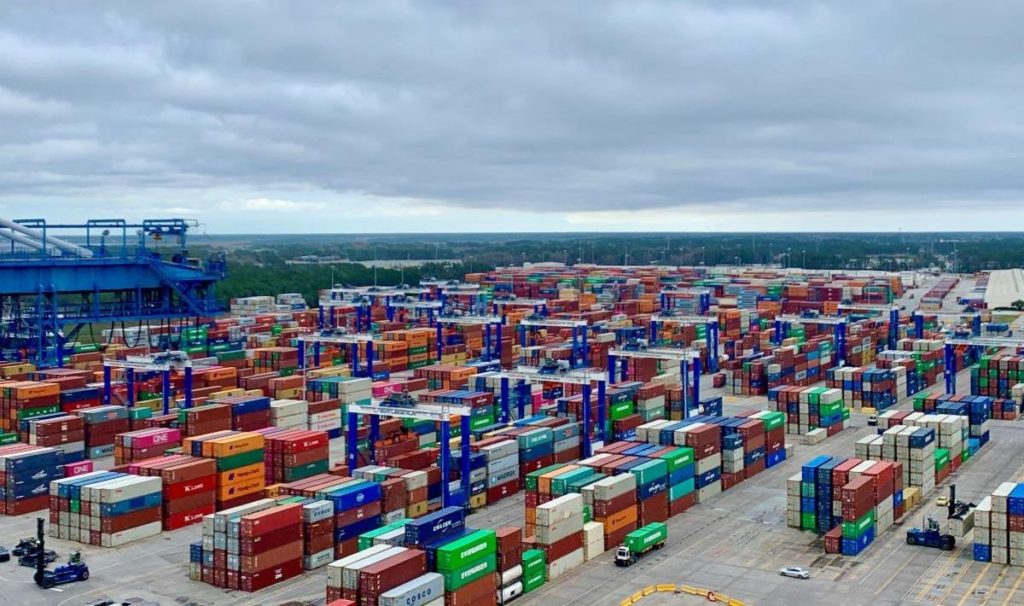 CHARLESTON, SC — March 9, 2020 — S.C. Ports Authority saw steady container volumes in early 2020 and recorded the highest February ever for both cargo volumes and rail moves at inland ports.
S.C. Ports moved 197,214 twenty-foot equivalent container units (TEUs) across the Wando Welch and North Charleston container terminals in February. SCPA has handled nearly 1.64 million TEUs thus far in fiscal year 2020, from July through February, a 4% increase from the same time a year ago.
As measured by the total number of boxes handled, SCPA moved 110,927 pier containers in February. The Port has handled 924,526 pier containers in fiscal year 2020.
Loaded export TEUs were up nearly 20% and loaded import TEUs were up about 14% over last February, both of which are record levels for that month.
Vehicle volumes are up 26% year-over-year with a total of 149,340 vehicles handled thus far in fiscal year 2020. The Port moved 18,156 vehicles at Columbus Street Terminal in February.
S.C. Ports handled 468,319 pier tons of breakbulk in fiscal year 2020, up 22% year-over-year. The Port has handled 206,050 cruise passengers thus far in fiscal year 2020.
S.C. Ports' two rail-served inland terminals both saw record activity in February. Inland Port Greer, located in the Upstate, reported 13,749 rail moves in February for a total of 99,920 rail moves in fiscal year 2020, up nearly 18% year-over-year. Inland Port Dillon, located in the Pee Dee, reported 3,068 rail moves in February for a total of 22,893 rail moves in fiscal year 2020, up 22%.
"S.C. Ports maintained strong volumes across multiple business segments in early 2020, with record volumes handled at our bustling terminals in February," S.C. Ports Authority President and CEO Jim Newsome said. "These volumes are bright spots amid much uncertainty in the global market. While we do expect our volumes will be down in March and April due to impacts from the coronavirus, we anticipate a rebound in May and June to finish the year above plan."
S.C. Ports continues to prepare for growing cargo volumes and larger vessels calling on the Port of Charleston. The Charleston Harbor Deepening Project is on track to achieve a 52-foot depth in 2021.
Work is also progressing on the first phase of the Hugh K. Leatherman Terminal, set to open in March 2021. The terminal recently reached a major milestone when the last pile was driven into the new 1,400-foot-wharf, readying it for Neo-Panamax vessels.
"We remain focused on executing our vital infrastructure projects, including deepening our harbor and building a new container terminal, to handle mega container ships carrying cargo to support the booming Southeast market," Newsome said.
About South Carolina Ports Authority
South Carolina Ports Authority (SCPA), established by the state's General Assembly in 1942, owns and operates public seaport and intermodal facilities in Charleston, Dillon, Georgetown and Greer. As an economic development engine for the state, Port operations facilitate 225,000 statewide jobs and generate nearly $63.4 billion annual economic activity. SCPA is soon to be home to the deepest harbor on the U.S. East Coast at 52 feet, and the Port is an industry leader in delivering speed-to-market, seamless processes and flexibility to ensure reliable operations, big ship handling, efficient market reach and environmental responsibility. For more information on SCPA, please visit www.scspa.com.