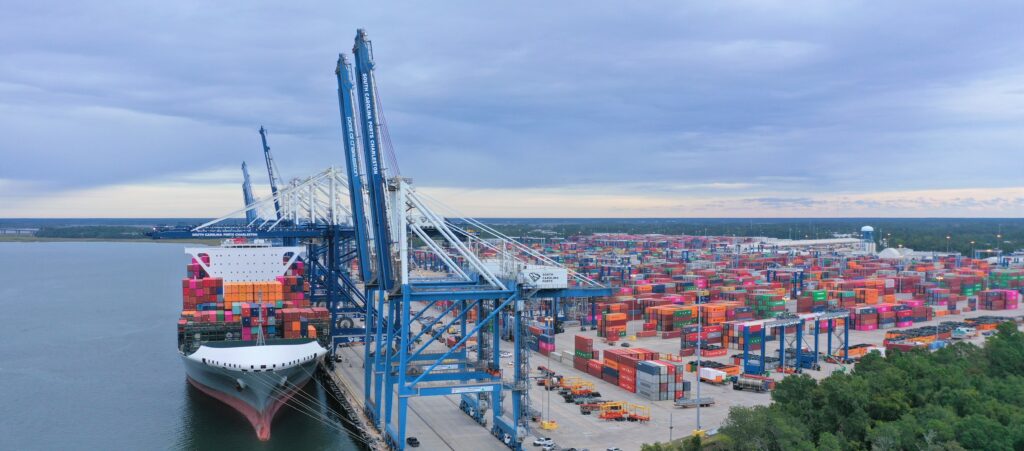 CHARLESTON, SC — JUNE 22, 2021 — South Carolina Ports readies for fiscal year 2022 with enhanced infrastructure and capacity to handle rising retail imports and cargo volumes.
SC Ports has continued to rebound well throughout fiscal year 2021, noting strength in containerized, vehicle and inland port business segments. SC Ports has seen record cargo volumes for the past three consecutive months.
Loaded imports were up 46.5% in May compared to May 2020, and up 21.6% from May 2019. Much of this growth stems from pandemic-related shifts in buying habits, with a bigger focus on retail products and home goods. SC Ports' infrastructure investments have been crucial to handling the growth.
"While the pandemic has created incredible supply chain challenges globally amid unprecedented demand, SC Ports provides a great service and remains focused on finding solutions to meet our customers' needs," SC Ports President and CEO Jim Newsome said. "As we look to fiscal year 2022, we plan to continue investing in our port to provide more capacity and reliability for our customers as we grow above the market."
SC Ports Authority's Board of Directors unanimously adopted a financial plan for fiscal year 2022 during the June board meeting today.
The plan projects that SC Ports will handle 1.475 million pier containers in fiscal year 2022, which runs from July 1 through June 30, 2022. The plan also projects 252,500 vehicles moving through the port, as well as 160,000 rail moves at Inland Port Greer and 38,000 rail moves at Inland Port Dillon during the fiscal year.
SC Ports' fiscal year 2022 operating plan includes $324.6 million in operating revenues, which is estimated to generate $100.6 million in operating cash flow.
SC Ports' Board unanimously approved a $349.4 million capital spending plan for fiscal year 2022. The funding will support continued enhancement of SC Ports' terminals, equipment and IT infrastructure.
Work includes further modernizing Wando Welch Terminal to handle the mega container ships calling on the Port of Charleston; continuing work on Leatherman Terminal; and expanding Inland Port Greer to increase rail and container capacity at the rail-served inland port in Upstate South Carolina.
SC Ports will also invest in a chassis pool to ensure motor carriers can quickly access quality chassis, increasing safety and efficiency.
SC Ports Board Chairman Bill Stern recognized SC Ports' team, the broader maritime community, SC Ports' board members and legislative partners for their dedication and foresight during a challenging year.
"The ability to keep freight moving would not be possible without a truly great team, as well as the support of our board members and many partners," Stern said. "SC Ports' fiscal year 2022 financial plan is a thoughtful approach to continue the successes and growth seen over the past year. We will continue investing in port infrastructure to handle the biggest ships and growing cargo volumes, ensuring SC Ports remains a top 10 U.S. container port."
About South Carolina Ports Authority
South Carolina Ports Authority, established by the state's General Assembly in 1942, owns and operates public seaport and intermodal facilities in Charleston, Dillon, Georgetown and Greer. As an economic development engine for the state, Port operations facilitate 225,000 statewide jobs and generate nearly $63.4 billion in annual economic activity. SC Ports is soon to be home to the deepest harbor on the U.S. East Coast at 52 feet. SC Ports is an industry leader in delivering speed-to-market, seamless processes and flexibility to ensure reliable operations, big ship handling, efficient market reach and environmental responsibility. Please visit www.scspa.com to learn more about SC Ports.