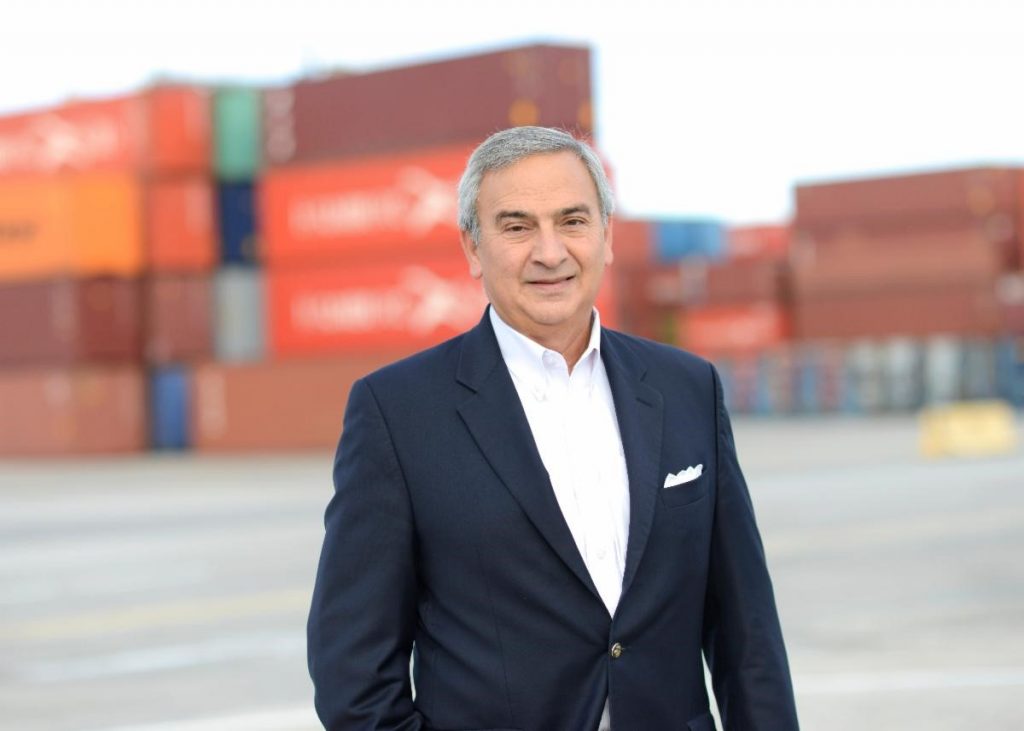 CHARLESTON, SC — FEB. 6, 2020 — S.C. Ports Authority President and CEO Jim Newsome received the Distinguished Service Award from The University of Tennessee, Knoxville's, Global Supply Chain Institute.
The advisory board for the Haslam College of Business' Global Supply Chain Institute presented the award to Newsome for his many contributions to both the supply chain field and the university.
Newsome received his bachelor's degree in transportation and logistics and his MBA from the University of Tennessee, Knoxville.
Newsome remains very involved with the university today by serving on the Dean's Advisory Council of the Haslam College of Business, mentoring supply chain students, providing critical content for courses, and establishing the Mr. and Mrs. James I Newsome Jr. Scholarship for supply chain management students.
"Jim always makes a point of getting to know the scholarship recipient," said Mary Holcomb, the Gerald T. Niedert Supply Chain Fellow. "He also always takes the time from an unbelievably hectic schedule to speak to and interact with our MBAs. His contributions to our program go above and beyond just 'giving back.'"
After earning his degrees at UT, Newsome embarked on a career in the shipping industry, including executive roles at Nedlloyd Lines and becoming president of Hapag-Lloyd America Inc.
In 2009, Newsome became the president and CEO of S.C. Ports Authority. During his tenure, he has successfully pursued vital infrastructure projects, significantly grown port operations and doubled cargo volumes.
He has worked to ensure the Port of Charleston remains globally competitive and a top 10 U.S. container port, generating one in 10 jobs in South Carolina and a $63.4 billion economic impact on the state each year.
S.C. Ports is now known as one of the most efficient ports in the country and was recently ranked as one of the Best Places to Work in South Carolina.
"Jim demonstrates that supply chain executives can lead their organizations to greater heights, not simply direct them to lower costs and increase output," said Ted Stank, the Global Supply Chain Institutes' faculty director.
Newsome said that his education at UT was an invaluable foundation for his career and that the Global Supply Chain Institute creates great opportunities for students preparing to embark on their careers.
"During my nearly 45-year business career, my logistics degree from UT has opened many doors for me around the world," Newsome said. "I am very proud of the work done by Chad Autry and the supply chain management faculty to build one of the best supply chain programs in the country. It is a great honor to be a small part of that, and I look forward to a continued association with the Haslam and the university."
About South Carolina Ports Authority
South Carolina Ports Authority (SCPA), established by the state's General Assembly in 1942, owns and operates public seaport and intermodal facilities in Charleston, Dillon, Georgetown and Greer. As an economic development engine for the state, Port operations facilitate 225,000 statewide jobs and generate nearly $63.4 billion annual economic activity. SCPA is soon to be home to the deepest harbor on the U.S. East Coast at 52 feet, and the Port is an industry leader in delivering speed-to-market, seamless processes and flexibility to ensure reliable operations, big ship handling, efficient market reach and environmental responsibility. For more information on SCPA, please visit www.scspa.com.