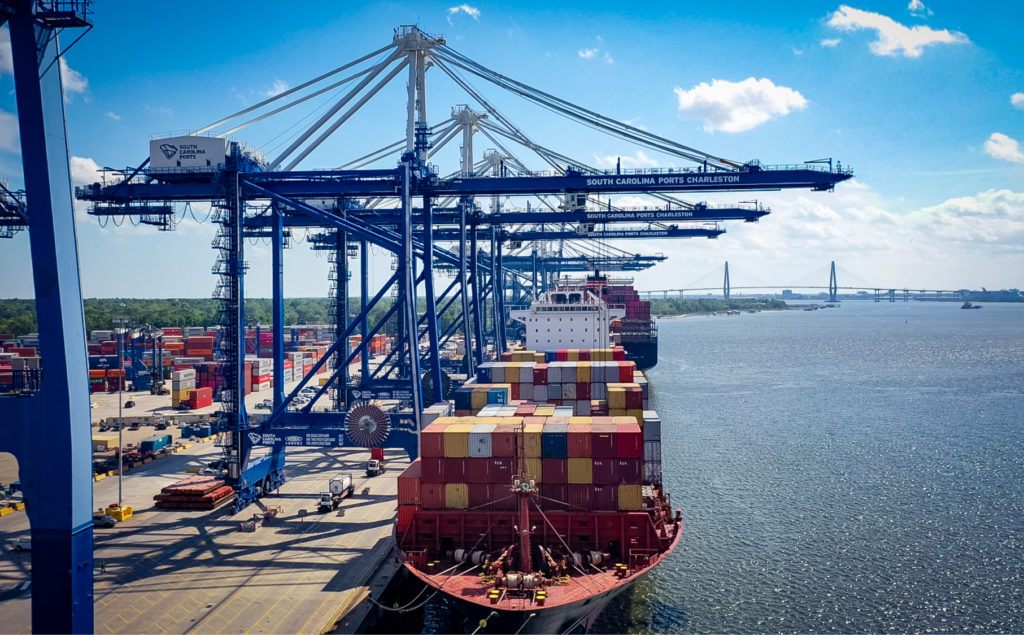 CHARLESTON, SC – MAY 4, 2020 – Marine Terminals Corporation – East (Ports America), Ceres Marine Terminals Inc. (Ceres), and SSA Atlantic LLC (SSA) are pleased to announce they have formed a joint venture company to provide container terminal and stevedoring services in the Port of Charleston in South Carolina. The new joint venture, known as Charleston Stevedoring Company LLC (CSC), will be operational May 4.


Working in close coordination and with the support of South Carolina Ports Authority (SCPA), CSC will enable the most efficient use of the Port of Charleston's terminal assets and resources dedicated to serving the thriving and growing Southeast market.
"The new entity will provide significant benefits to the Port of Charleston, including improved container terminal services through the consolidated operations at all berths, as well as more efficient vessel turn times and improved equipment utilization," CSC President Dan Hall said. "The combined company will optimize use of terminal capacity and improve integration between terminal, vessel and gate operations."
CSC's mission is to provide a secure, safe and stable environment for its employees, while simultaneously strengthening the Port of Charleston's position within the global marketplace.
"The Southeast is the best place to be in the port business with both its thriving business sector and growing population boosting imports and exports," SCPA President and CEO Jim Newsome said. "CSC will enhance the ability to market the Port of Charleston to a broader customer base with a focus on continued growth for this strategic market."
"As a top 10 U.S. container port, S.C. Ports recognizes its role in ensuring the efficient flow of cargo through the Port of Charleston," SCPA COO Barbara Melvin said. "CSC will enable more efficient vessel turn times, equipment usage and staffing to handle continued growth of cargo volumes and ship sizes."
About Ports America
Ports America is a U.S. terminal operator and stevedore, with operations in every major port in the nation. With more than 90 years of experience through predecessor companies, Ports America possesses dedicated resources that only a company of such scale and scope can deliver, including: skilled personnel, robust training programs, best-in-class technology and experienced management.
About Ceres
Ceres is a transportation service provider, with stevedoring and terminal operations across multiple cargo types. Ceres container business continues to grow, with operations in many of North America's key ports. Known for its reputation of providing quality service and support, Ceres strongly values its many long-term relationships with a broad range of customers.
About SSA
SSA, a wholly-owned subsidiary of Carrix Inc., is a marine and rail terminal operator in the Americas and internationally. Established in 1949 by the Smith/Hemingway Family and headquartered in Seattle, Carrix is a leader with respect to terminal management, efficiency, throughput, and employee training and safety. With a diversified portfolio of domestic and international operations, Carrix operates over 250 container, conventional, and intermodal rail facilities, and has over 30 joint venture partnerships with major shipping lines, local partners, and other marine terminal operators.
About South Carolina Ports Authority
South Carolina Ports Authority (SCPA), established by the state's General Assembly in 1942, owns and operates public seaport and intermodal facilities in Charleston, Dillon, Georgetown and Greer. As an economic development engine for the state, Port operations facilitate 225,000 statewide jobs and generate nearly $63.4 billion in annual economic activity. SCPA is soon to be home to the deepest harbor on the U.S. East Coast at 52 feet, and the Port is an industry leader in delivering speed-to-market, seamless processes and flexibility to ensure reliable operations, big ship handling, efficient market reach and environmental responsibility. For more information on SCPA, please visit www.scspa.com.