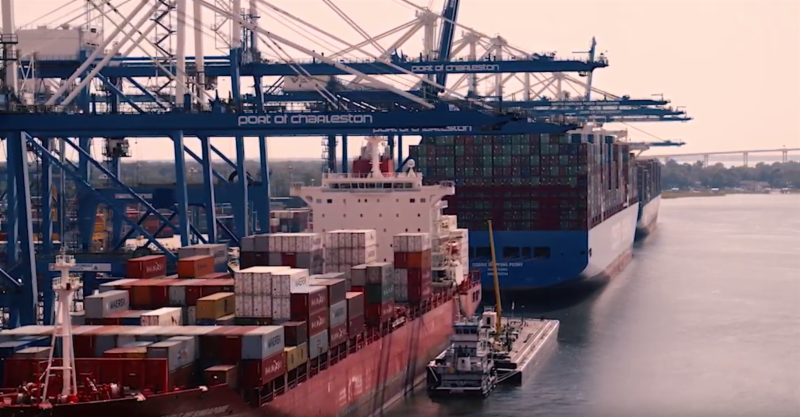 CHARLESTON, SC — AUG. 8, 2019 — South Carolina Ports Authority saw a strong start to fiscal year 2020, recording its busiest July in Port history at container terminals and inland ports.
SCPA handled 210,542 twenty-foot equivalent container units (TEUs) at the Wando Welch and North Charleston container terminals in July, up 5% from the year prior.
As measured by the total number of boxes handled, SCPA moved 119,700 pier containers in July, up about 5% from a year ago.
"We accomplished so much in fiscal year 2019, including record cargo volumes and rail moves. We are excited to see fiscal year 2020 starting off so strong," S.C. Ports Authority president and CEO Jim Newsome said. "Our entire maritime community — especially those working our terminals and running our operations — make these achievements possible."
Inland Port Greer had its second-busiest month and strongest July ever with 15,338 rail moves, up 57% from this time last year.
Inland Port Dillon, now in its second year of operation, reported 2,889 rail moves in July, up 122% from a year ago when operations were ramping up.
"In fiscal 2020, we will work to grow our cargo volumes, particularly with increased retail cargo and distribution center presence, to support our ongoing infrastructure projects," Newsome said. "In 2021, we will have the deepest harbor on the East Coast and the Hugh K. Leatherman Terminal — the only new container terminal in the U.S. — will open in North Charleston."
About South Carolina Ports Authority
South Carolina Ports Authority (SCPA), established by the state's General Assembly in 1942, owns and operates public seaport and intermodal facilities in Charleston, Dillon, Georgetown and Greer. As an economic development engine for the state, Port operations facilitate 187,200 statewide jobs and generate nearly $53 billion annual economic activity. SCPA is soon to be home to the deepest harbor on the U.S. East Coast at 52 feet, and the Port is an industry leader in delivering speed-to-market, seamless processes and flexibility to ensure reliable operations, big ship handling, efficient market reach and environmental responsibility. For more information on SCPA, please visit www.scspa.com.