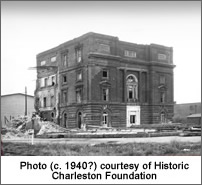 The Bennett Rice Mill facade stands at the center of the SC Ports Authority's Union Pier Terminal in downtown Charleston. The mill, which opened in 1845, is considered one of the finest examples of 19th-century American industrial architecture.
In 1844, Governor Thomas Bennett, one of the wealthiest plantation owners in Charleston, commissioned the construction of a rice mill on his property between East Bay Street and Charleston Harbor. He envisioned that its design would surpass all other mills of its time. The Bennett mill was lauded for its successful integration of Classical Revival and Italian Renaissance styles.
Rice was a major industry in the South Carolina Lowcountry in the 19th century, with millions of bushels of rice per year marketed in the area during this time. Of the three rice mills in Charleston, the Bennett mill was the smallest in size. However, the Bennett mill, at a capacity of 200 bushels per day, became one of the three most productive rice mills in the nation because of its location at the center of the busy waterfront.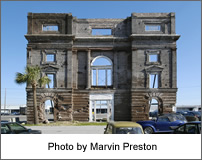 After the Civil War, rice planting became less profitable. By the turn of the century, the Lowcountry rice industry had all but died out. By 1911 the mill left the ownership of the Bennett family. Around 1924, the mill was converted into a peanut plant as a branch of the Planters Peanut and Chocolate Co. Ownership again changed hands to Seaboard Air Line Railroad Co. and finally to the South Carolina Ports Authority in 1958.
In October 1958, a formal agreement between the Ports Authority and two local preservation groups, Historic Charleston Foundation and the Preservation Society of Charleston, was reached. The Authority agreed to construct a security fence around the structure, and the preservationists agreed to assume stewardship of the building.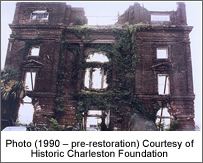 Damage from Hurricane Donna in September of 1960 all but demolished the mill. SCPA built a steel frame to support the remaining western facade. After Hurricane Hugo in 1989, 90% of the braced facade survived. In the 1990s, a series of restoration projects teamed local master masons with high school students to repoint the facade and repair the cracked brick arch.