CHARLESTON, SC -- OCT. 17 -- South Carolina Ports Authority welcomes three additional ship-to-shore cranes with 155 feet of lift height to the Port of Charleston.
The cranes arrived in Charleston Harbor today aboard the Zhen Hua 28 vessel after a two-month journey from China. SC Ports' crane purchases are part of a multiyear effort to further modernize operations and upgrade infrastructure to handle larger ships.
The cranes will remain at Columbus Street Terminal in downtown Charleston for several days before being transported to their permanent home at Wando Welch Terminal in Mount Pleasant. The new cranes will be assembled and commissioned behind the wharf; the cranes will then be moved to begin working ships at Wando Welch Terminal in early 2020.
"SC Ports Authority is excited to add three more ship-to-shore cranes with 155 feet of lift height to SC Ports, which will increase our berth productivity," SC Ports President and CEO Jim Newsome said. "We have a great partnership with Shanghai Zhenhua Heavy Industries (ZPMC). Our investments in crane infrastructure equip us to handle the bigger container ships being deployed by ocean carriers today."
Wando Welch Terminal currently has 12 ship-to-shore cranes; eight have 155 feet of lift height and four have 115 feet of lift height.
The three new cranes will replace three of the existing cranes, which will move to North Charleston Terminal, meaning Wando Welch Terminal will have 11 cranes with 155 feet of lift height and one crane with 115 feet of lift height in 2020.
S.C. Ports will receive four additional cranes with 155 feet of lift height in 2020 for a total of 15 such cranes operating at Wando Welch Terminal by the end of 2020. These taller cranes will enable SC Ports to continue working the largest ships already calling the Port of Charleston and the U.S. East Coast.
"These modern cranes are incredibly tall and have a wider reach, enabling crane operators to seamlessly move containers back and forth on 14,000-TEU-and-above vessels," SC Ports COO Barbara Melvin said. "Bigger cranes are part of our strategy to ensure we run efficient operations and remain competitive in the era of big ships."
SC Ports' infrastructure investments, combined with the ongoing Charleston Harbor Deepening Project, will enable Wando Welch Terminal to handle three 14,000 twenty-foot equivalent container unit (TEU) ships simultaneously next year.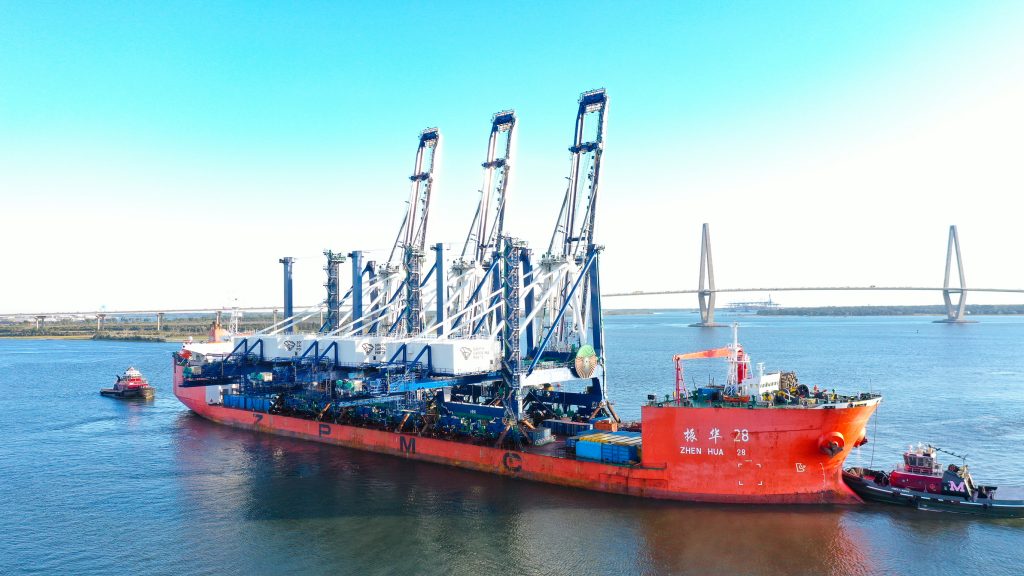 About South Carolina Ports Authority
South Carolina Ports Authority (SCPA), established by the state's General Assembly in 1942, owns and operates public seaport and intermodal facilities in Charleston, Dillon, Georgetown and Greer. As an economic development engine for the state, Port operations facilitate 187,200 statewide jobs and generate nearly $53 billion annual economic activity. SCPA is soon to be home to the deepest harbor on the U.S. East Coast at 52 feet, and the Port is an industry leader in delivering speed-to-market, seamless processes and flexibility to ensure reliable operations, big ship handling, efficient market reach and environmental responsibility. For more information on SCPA, please visit www.scspa.com.